If you are reading this title and you really are surprised, then you are probably going to be scrambling to get a Mother's Day Card! But no worries, click here to print off this card and you are good to go, courtesy of seven thirty three!
And need a gift idea? How about Breakfast in Bed, room-service style? Then my door-knob Mother's Day Room Service hanger is perfect for you!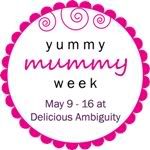 I also wanted to let you know that I am sponsoring a giveaway over at Delicious Ambiguity during Yummy Mummy Week! My giveaway is on Saturday, the 15th, but you should check out all the fun happenings starting on Monday.
Happy Mother's Day to all you special women!