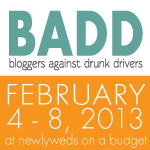 Before I get into today's project, I wanted to share that I am in support of Blogger's Against Drunk Driving, or BADD. I recently did a blog design for Kari at Newlyweds on a Budget. As I was installing her design I noticed her bio in the sidebar… she was hit by a drunk driver in June of last year while training for a half marathon. After the install was complete I emailed Kari to tell her how much I was inspired by her and her courage, how amazing she is to have such an incredibly positive outlook on life, despite the horrible thing that happened to her. I also mentioned that my my aunt was hit by a drunk driver when she was 12… getting off the school bus. The drunk driver that hit her was 19 years old. A year later he got drunk again, jumped into a pool and is now quadrapalegic. It is a sad tale from beginning to end. After chatting with Kari a bit more, she asked if I would be willing to help her spread awareness against drunk driving and she mentioned BADD. I thought it was a great idea and created a logo and button for her use. Today is dedicated to spreading that awareness. Kari has had guest bloggers at her blog all week sharing stories of how they have been effected by drunk driving. Please stop by and read those stories and share them with your friends and family, especially the younger generation. Don't forget to become, or designate a DD, don't let your friends drive drunk! Taking even one drunk driver off the road can save a life! Let's keep our families and roads SAFE but spreading the word that drunk driving is unacceptable!
****************
Earlier this week I shared the Owl Themed Baby Shower I helped put together.
One of our "games" was scratch off tickets and today I am going to share how I made them.
If you want to use the tickets I created, you can download them via Google Drive.
The lottery tickets are fairly simple to create.
I designed and printed the cards and then used 1″ round mailing seals to cover the "scratch off" area, you could also use packing tape, any sort of sticky plastic material. I already had the mailing seals and they were the perfect fit so I went with it.
I then mixed two parts acrylic paint to one part dish soap and painted over the seal. (If you are unsure of the number you'll need, separate the winner from the losers – this way come the day of the event you can either count and find out exactly how many are needed and then randomly place in the winner, or you can randomly place them toward the front/middle of the whole pile to ensure SOMEONE gets the winner!)
My silver was fairly opaque so I added a bit of black to the mixture, which reduced the amount of coats needed to fully cover the image.
Remember to set them aside to dry between each coat – it will give you a smoother finish and will actually get you better coverage!
That's it! I had to create 50 tickets, so it took some time, but definitely worth it.
Kim is a Marketing Director by day and Crafter/Blogger/Blog Designer by night. She lives with her husband, three beautiful children, and her dog and cat. You can also visit her design site, seven thirty three – – – creative blog design. For even more seven thirty three fun, like her on Facebook or follow along via Twitter!